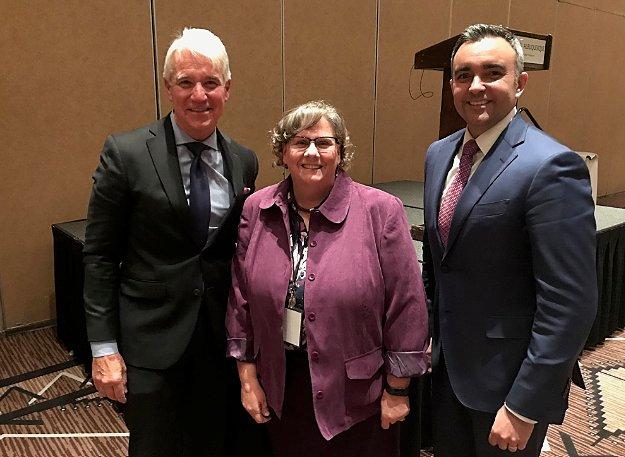 Last week, Albuquerque hosted a national convention of law enforcement officials and prosecutors on the forefront of using data to improve public safety — less than a year after the Bernalillo County District Attorney's office established the first Crime Strategies Unit in the state, with strong support from the Chamber. Chamber Board member and Vice President and General Manager of KOB 4 Michelle Donaldson was on hand to introduce the keynote speaker, San Francisco District Attorney George Gascón, on behalf of the Chamber.
Crime Strategies Units (CSUs) like those established by Bernalillo County District Attorney Raúl Torrez are "on the cutting edge of what public safety needs to look like in the 21st century," said Gascón, who also praised Torrez for the speed with which his office has adopted the CSU model.
District Attorney Torrez noted in his remarks that the two national leaders in adopting the Crime Strategies Units as a tool for data-driven prosecution were New York City and San Francisco. The Chamber partnered with the Bernalillo County D.A.'s Office to send a community delegation to San Francisco to study their CSU model in 2017, and — after successfully fighting in the state legislature to boost funding for D.A. Torrez' office — brought Manhattan D.A. David O'Keefe and NYC Police Commissioner James P. O'Neill to Albuquerque for the Chamber's Annual Meeting last fall.
In her remarks introducing D.A. Gascón, Chamber Board member Michelle Donaldson noted the collaboration between the Chamber and the D.A.'s Office which has brought Albuquerque alongside the leaders in data-driven prosecution. In less than two years, Albuquerque has gone from seeking out a new path forward on public safety to hosting a conference to share its knowledge and tools to the rest of the country.
"It's a testament to how far our community has come, and the partnerships we've forged to make a lot of progress in a short amount of time," said Donaldson in her introductory remarks. "The development and launch of our Crime Strategies Unit is really an incredible story."
District Attorney Gascón is San Francisco's first Latino D.A., and the nation's first former police chief to become a district attorney, having served as chief of police in both Mesa, Arizona and San Francisco, in addition to the Assistant Chief of Police in Los Angeles. "He's regarded as a visionary on criminal justice reform," noted Donaldson, and "advocates for a justice system that is tough but fair."   
The Symposium on Intelligence-Driven Prosecution is a national conference drawing prosecutors and law enforcement officials from across the country to discuss the future of criminal justice, share best practices, and develop new and innovative strategies for crime reduction. Hundreds of representatives from cities, counties, and states covered topics including new data tools for prosecutors, alternatives to incarceration, and the intersection of public health and the criminal justice system.
For more coverage of the conference, click here.